Looking for Ways to Grow your Business?
ProTenders's company profile is the easy & efficient way to build your complete profile online and increase your chances of being found by the companies that matter most - Tender Issuers & Project Owners.
Build your profile in 15 minutes and get more leads.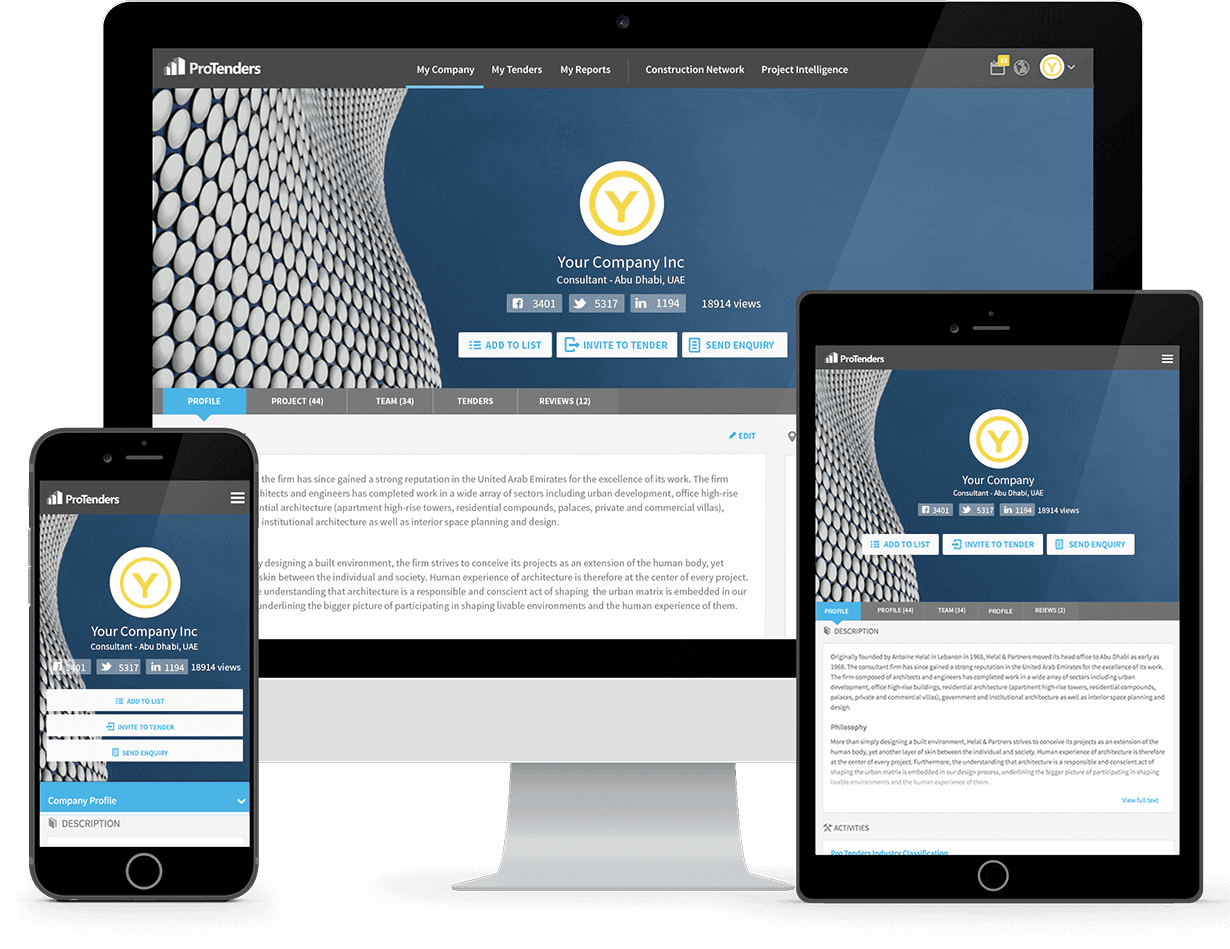 400,000+
Industry Audience
Introduce your Company
Every business deal starts with an introduction. Ensure that your existing and potential get the facts straight by presenting your company in your own words.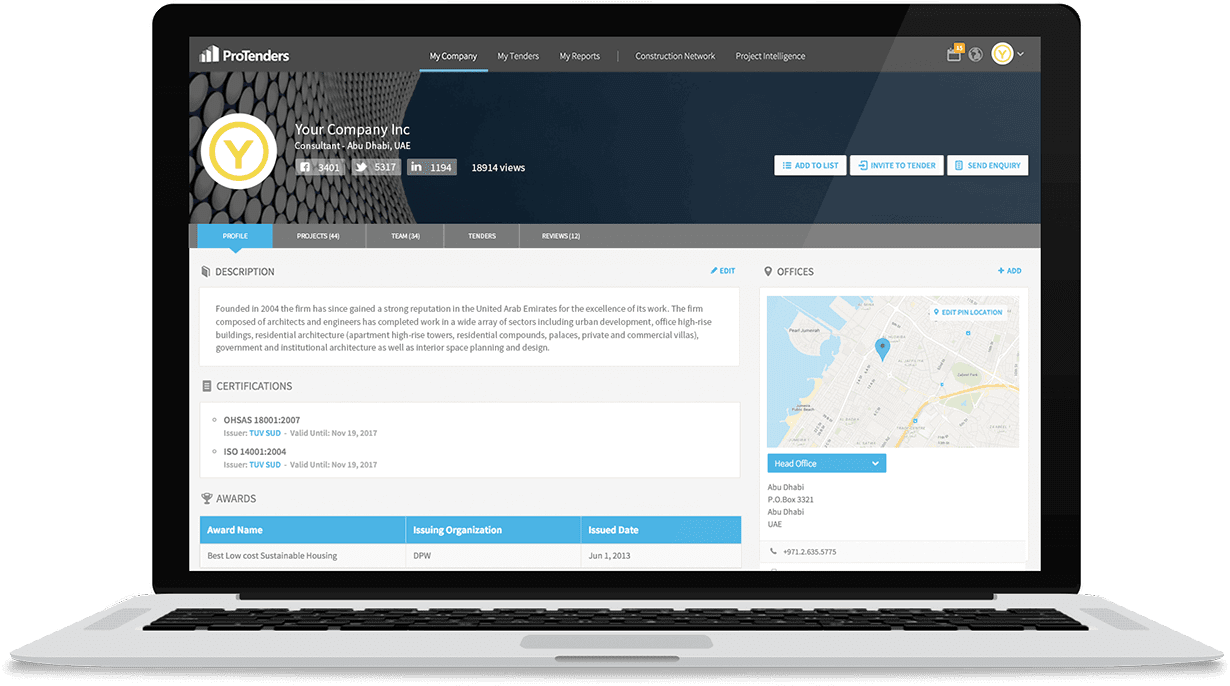 Say Goodbye to Paper Profiles.
Describe your company & business activities
Add your offices & contact information
List your Certifications & Awards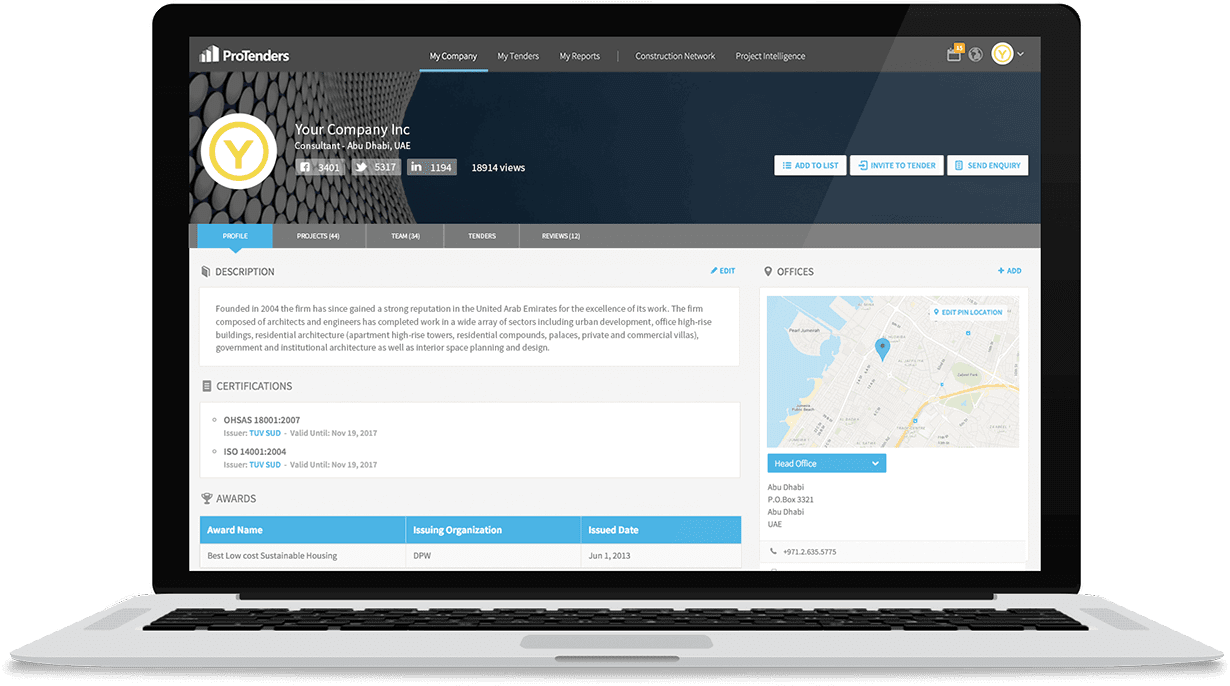 Showcase your Experience
Building and updating your project portfolio has never been easier than by using ProTenders' built-in portfolio page. Add your projects online or add your participation in another company's projects in minutes. Every project you add and verify will generate more visiblility for your company.
Easy & Accurate Project Portfolio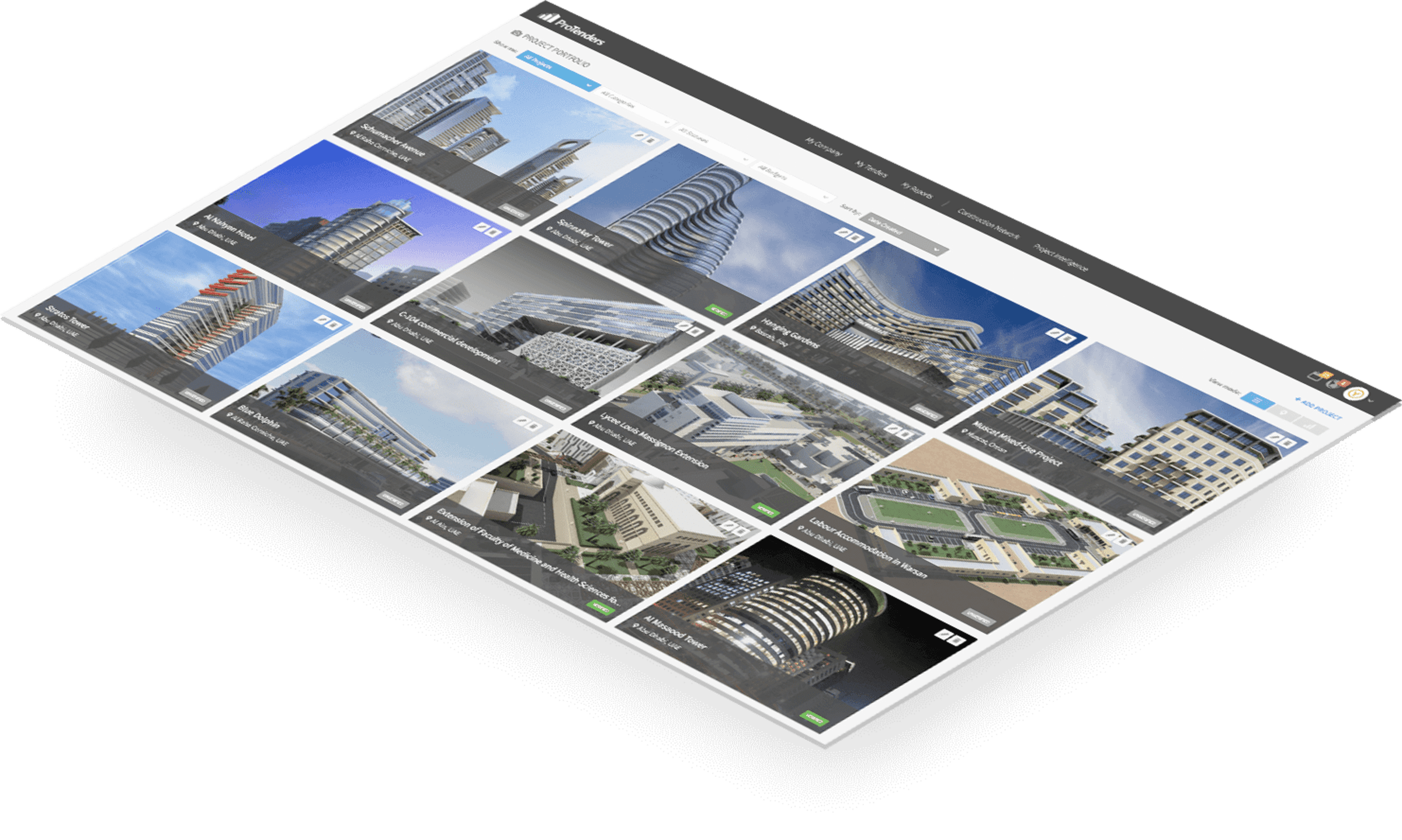 Project details
Create new projects in seconds or pick from one of the thousands of projects already in the ProTenders database. Describe your role in them, update your status and associate products.
Browse and filter projects
Whether your experience involves 1 or 1,000 projects, your portfolio page is designed to be easy to navigate and to impress. Filter projects by location, state or industry to find exactly the ones you want.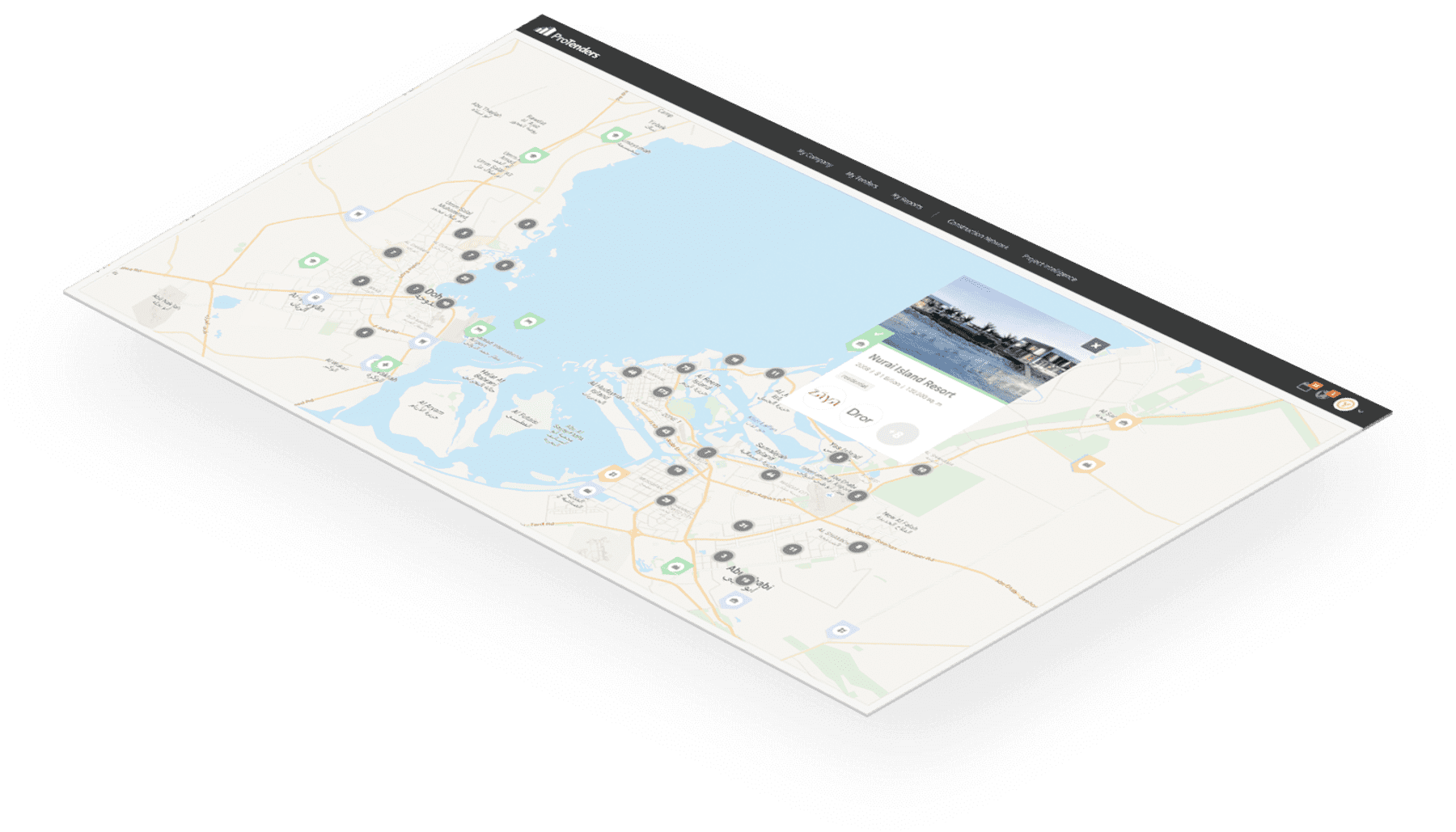 Construction Intelligence
Explore your projects and those of other companies on our Construction Intelligence section. Filter projects by their location, type, status and budget. Finding new leads has never been easier.
Get More Visibility
By completing your profile, you get immediate visibility through the 50,000+ searches that are being done every month for companies such as yours on our Construction Network portal.
Maximize your chances of being hired.
Get an SEO-optimized profile, compatible on all devices and accessible 24/7
Be found through your projects, products, team, activities, and much more
Get even more visibility - appear above your competitors with our Premium package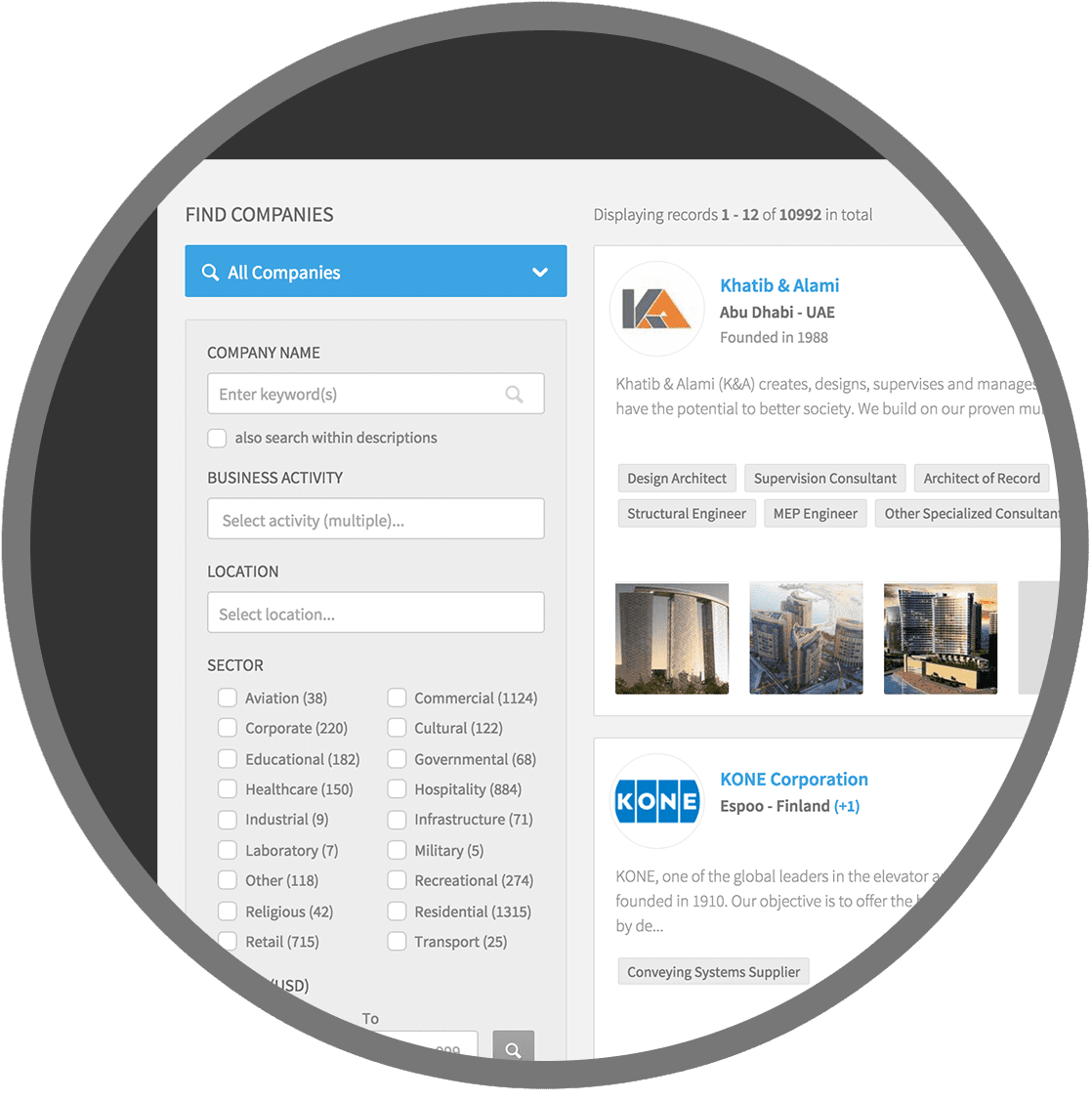 Open your Online Store
Whether you sell lights, trucks, furniture, applicance or building materials, ProTenders is the only platform that you need to sell more and reach new clients.
Create an online storefront in minutes.
Beautiful product listings, always available.
Get specified by adding your products specs to the listing.
Receive online RfQs and submit your pricing online instantly.
Optimized from Day 1
Ensure your company can be found anytime, anywhere and using any device. With ProTenders, you can focus on your core business while we ensure you never miss an opportunity.
Maximize your chances of being hired.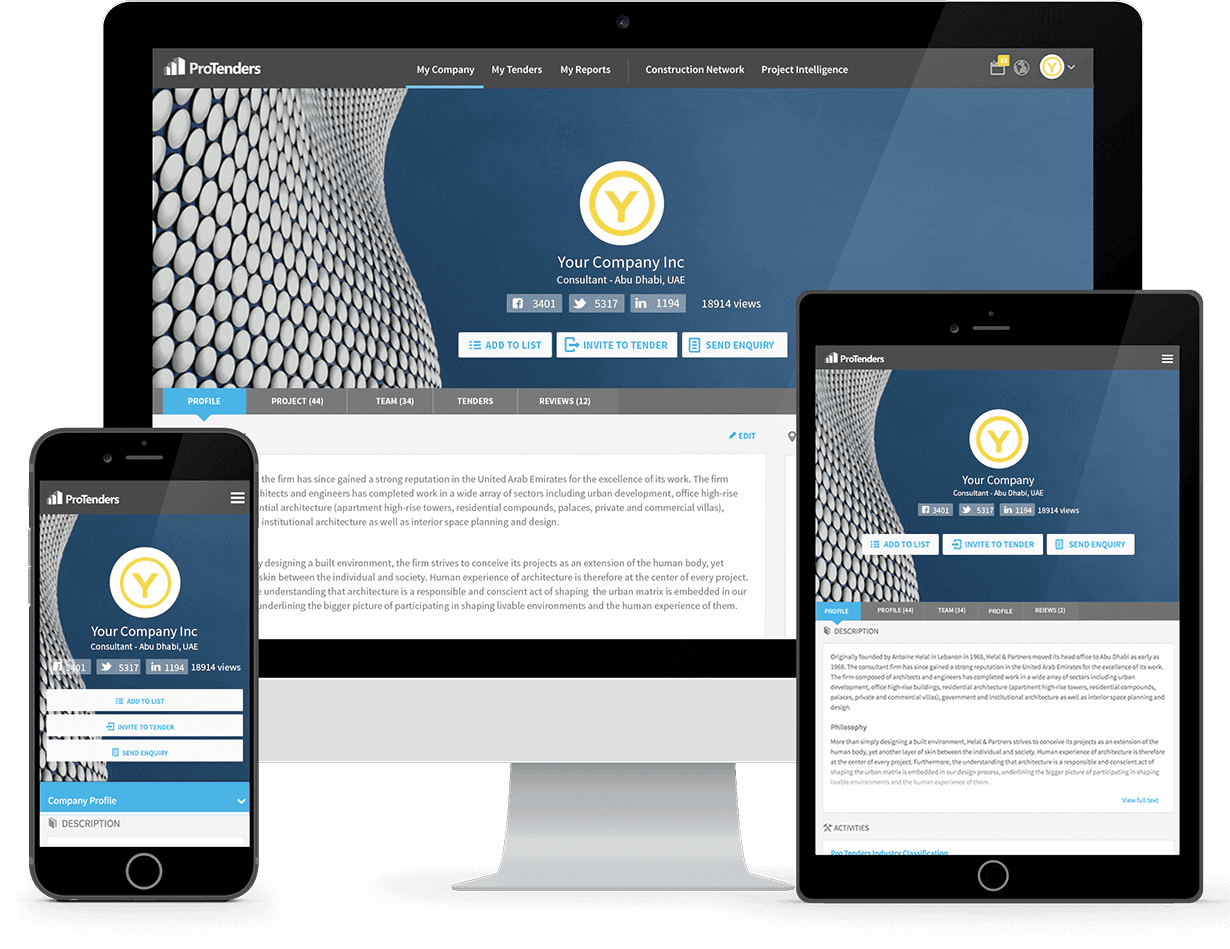 400,000+
Industry Audience