The #1 Platform for the Construction Industry to Connect, Track & Procure.
Whether you're looking to grow your construction business, expand to new markets, find new products and partners, or streamline your tendering process, ProTenders is the only Platform you'll need.
Gain Maximum Visibility
Company Profiles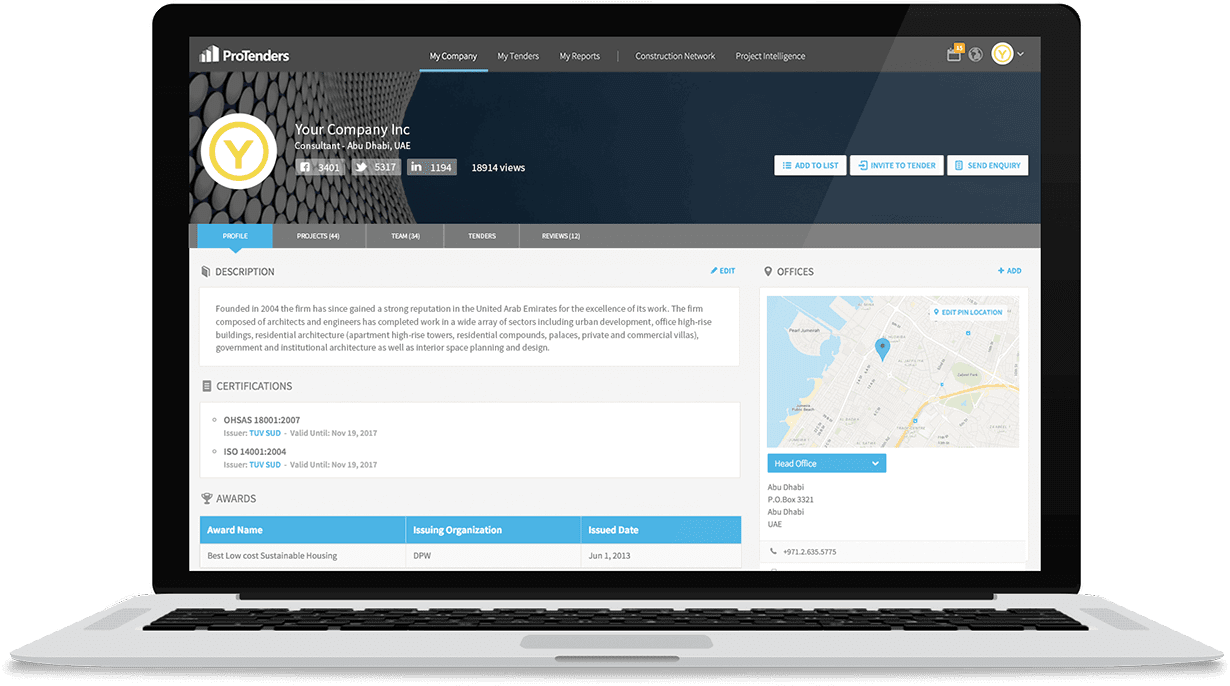 400,000+
Industry Audience
With a ProTenders company profile, getting found, finding partners and bidding on tenders is easier, quicker and safer than ever before.
Showcase your projects with your Project Portfolio
Build your fully searcheable Product Catalogues
List your company's Awards & Certifications
Name your Team Members & Key Employees
View your Page View Statistics and learn about your audience
Be found by potential partners through our Company Directory
SEO & Mobile Optimized, Up 24/7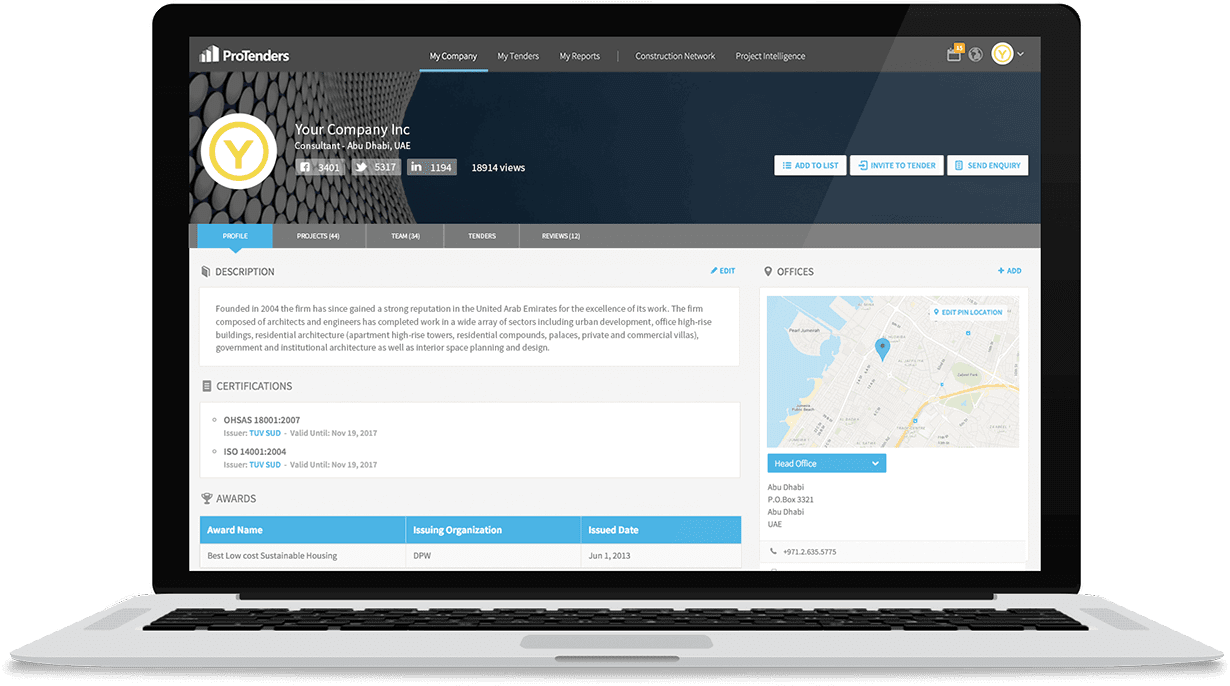 Get More Leads & Insights
Construction Intelligence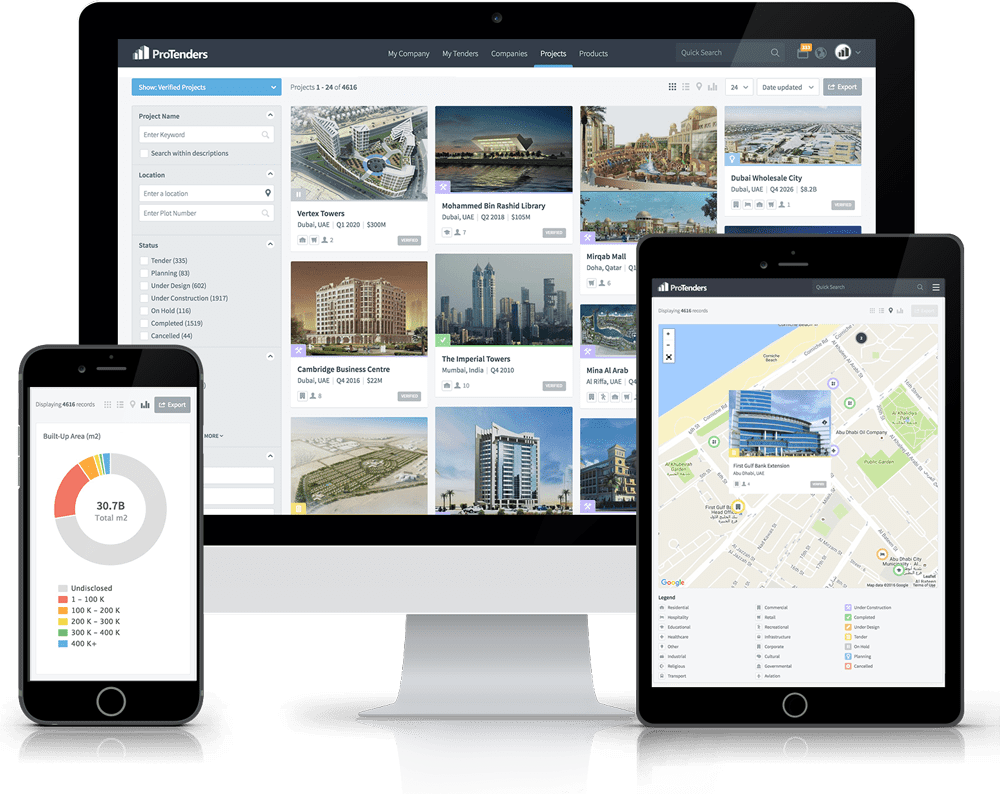 With the ProTenders Construction Intelligence Platform, your reach into the industry and its main players has just extended even further. Introduce the power of BI into your business development strategy and shift your competitive edge into higher gear.
Get the latest available project data including:
Facts & Specifications
Participating Companies & their Roles
Key Contacts
Events & Updates
Products Used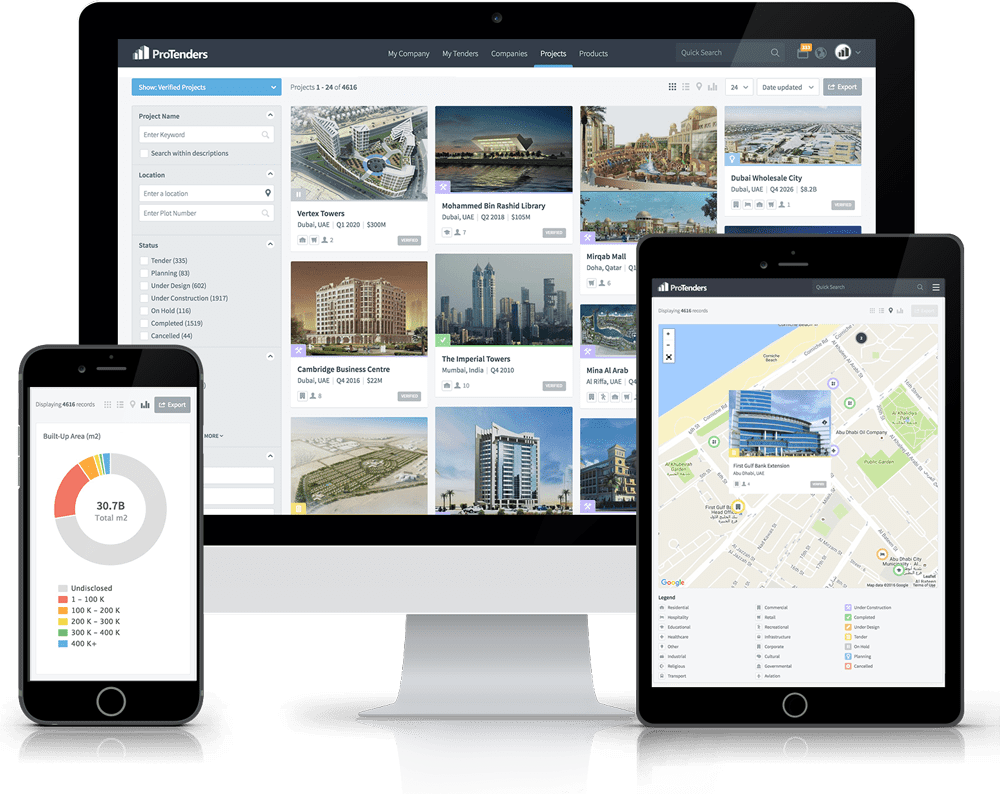 Reduce your Risk & Increase your ROI
eTendering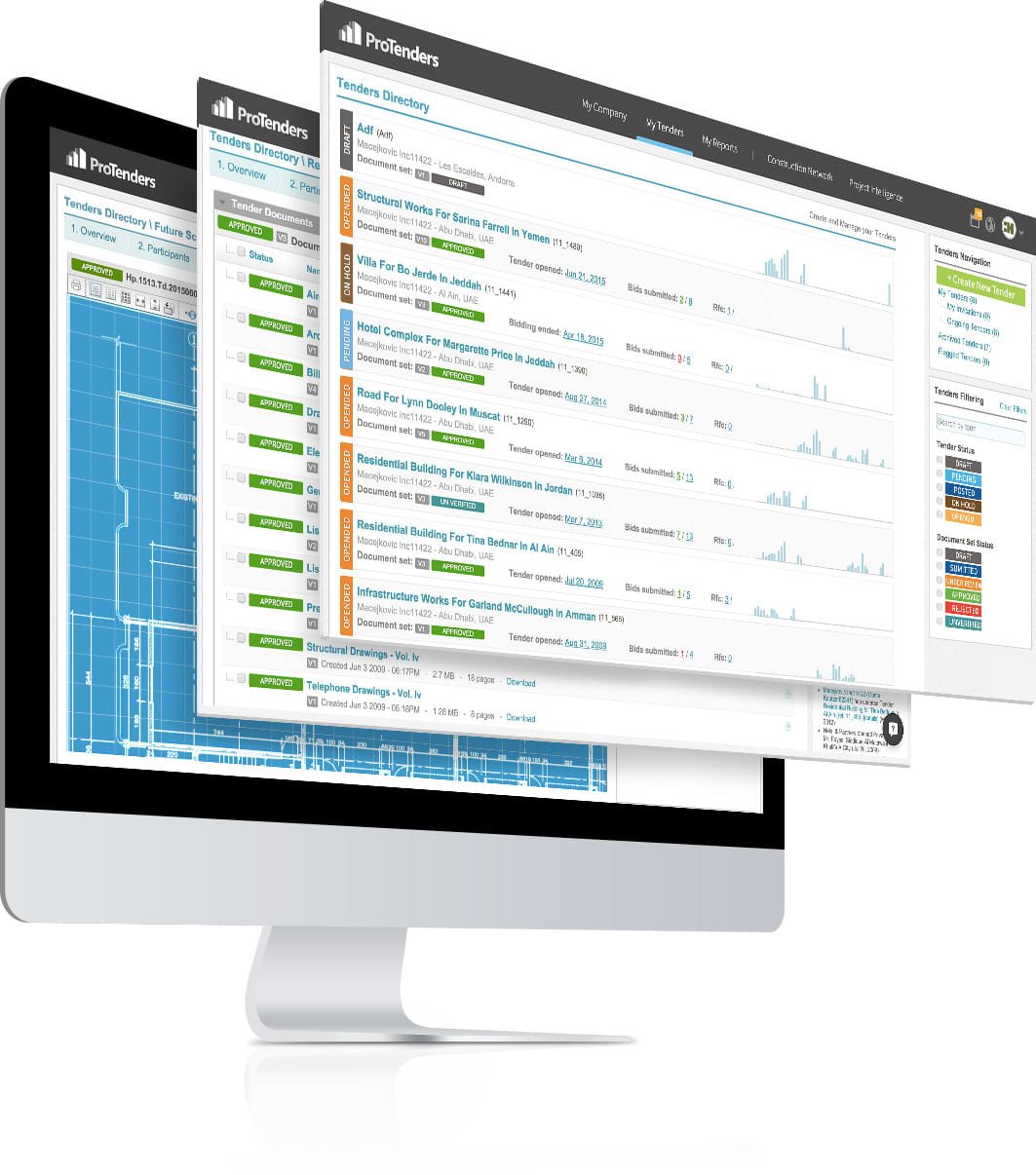 Forget about tedious bureaucracy of plowing through hundreds of paper pages and sending questions by fax. With ProTenders you can post tenders, receive bids, and invite partners, all online.
Centralize all your tenders, documents, communications and bids
Easily Collaborate with Consultants, Contractors and Suppliers
Get Immediate insights into your bids with Dynamic Tender Reports
Flexible to suit your requirements
Never miss a deadline with Notifications & Reminders
Search among thousands of pre-qualified and verified contractors, sub-contractors, consultants and suppliers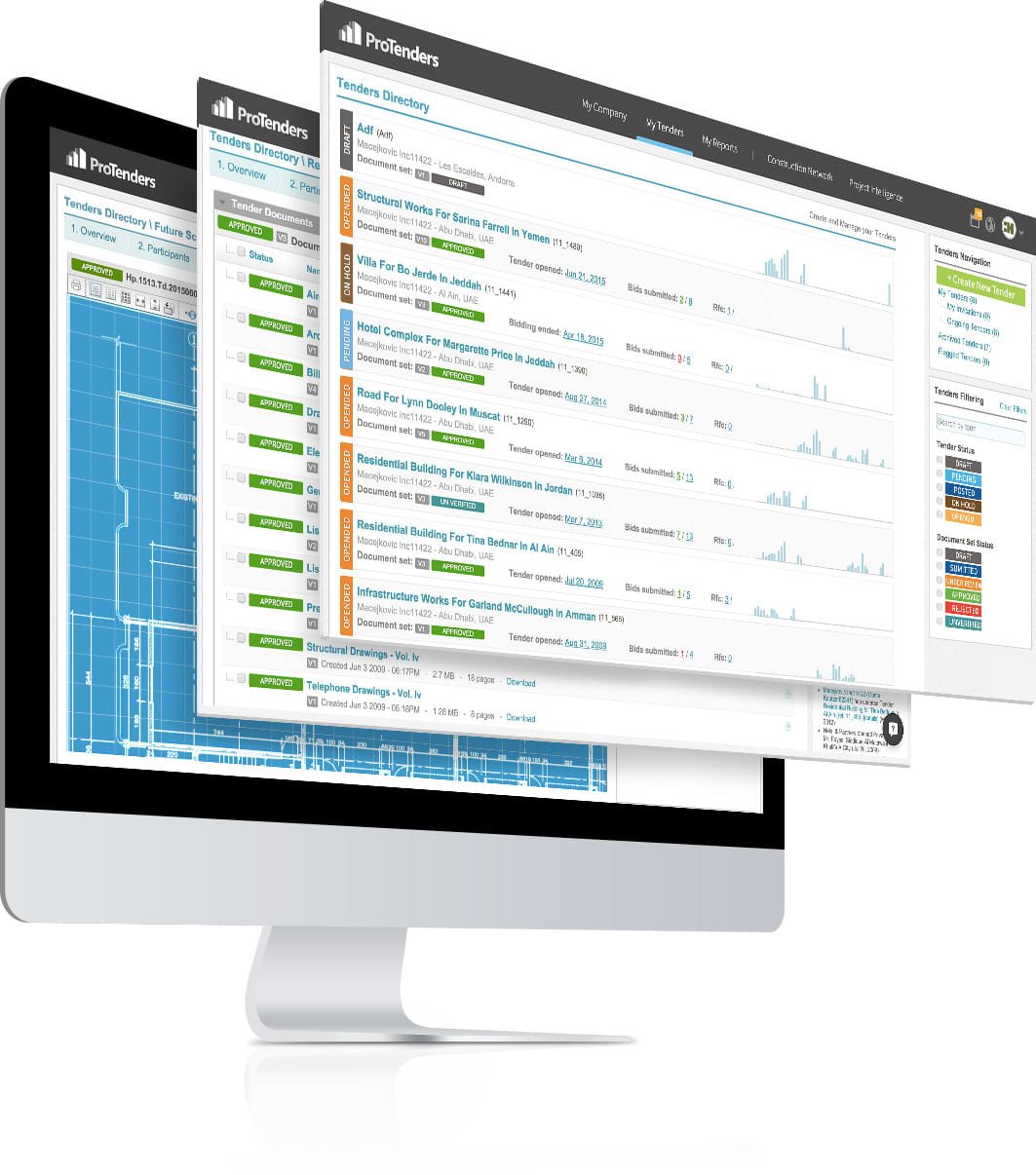 When looking for a solution to streamline our eTendering process, ProTenders became the obvious choice thanks to its user-friendly interface and powerful features. We now use it exclusively to manage our hundreds of tenders and as a result we have reduced our costs, increased our productivity and communication towards tender stakeholders.

Senior VP & General Manager

Preventing fraud is a challenge for any company connected with the construction industry the ProTenders system has given us improved visibility and control over documents and indeed the whole process...

Manager, Tendering Dept.

Through ProTenders multi-functional platform, I was able to strategically plan my short term, mid and long-term objectives by accessing projects at various stages and being provided with insightful details too. The intelligence module is definitely one that we were looking for in the market - considering that it was challenging to find a platform that could offer insightful details and help companies find decision-maker details on one single platform.

Managing Director - Energy Division

We had just an hour's training from the ProTenders team and from that we have been able to train newcomers ourselves. It is one of the few systems that has been developed specifically for our area of business. Many of our managers regularly have to travel internationally and the ability to be able to just log on from any PC is very useful for them.

Manager, Tendering Dept.